Journey
A renovation should instill a feeling of excited anticipation.
When you partner with us for your renovation journey, we will walk you through every step of your project. When most people initially start thinking about renovating, all the potential opportunities are exciting. Our goal is for you to hold onto that feeling, and enjoy the entire process.
Overview of your 3 step Renovation Journey
---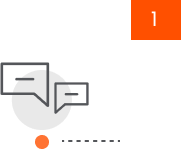 Consult
DISCOVERY
DESIGN BRIEF
DESIGN CONCEPT
Plan
CONSTRUCTION DRAWINGS
COUNCIL CONSENT
PRICING CONTRACTS
Build
CONSTRUCTION
COMPLIANCE
DESIGN CONCEPT
Your renovation is achieved by only working with skilled professionals in design, engineering, project management & construction. You'll always know that your project is in reliable, capable hands with Renovation Works.
DISCOVERY

Talking to someone experienced in renovating early on in the process is the first step to setting yourself up for a successful project. It will allow you to get some of your initial questions answered so that you can begin to piece together the bigger picture. We provide a free, no-obligation first site visit to help you define your ideas and allow you to begin to realise your vision for your remodelled home. It's never too early to take this first step, we often have meetings with homeowners 6, 12, or even 18 months before their project starts. If you are beginning to consider renovating your home, it is never too soon to talk. Book your appointment with us
DESIGN BRIEF

When you're ready to get started, you'll meet with our design team and project manager together. This is so that we can begin to get the big picture down on paper. They will assess your site and existing home, while taking the time to gather feedback from you to gain an understanding on how you live and what you envision for your property. This feedback allows us to start discussing preliminary costs to assist you with your budgeting decisions. The design meeting is used to begin to work on a refined brief. This brief takes all the information gathered, such as how you will use the spaces proposed and how they can better your lifestyle, so that we can begin to work towards your final design concepts.
DESIGN CONCEPT

The next step after the design meeting, full site measurement and once we've obtained a copy of council property records, is to develop the concept design to include all the elements and requirements that have been highlighted in your design brief. This needs to be done in enough detail to allow our designers to push the boundaries and produce some unexpected and fantastic results that will sweep you off your feet. Once a final concept design is agreed on, our estimators will work up a preliminary cost for the project to confirm that we are still within our budget.
CONSTRUCTION DRAWINGS

The approved final concept plan will become the foundation from which to develop detailed consent and construction drawings. Any specialist reports that may require building and/or resource consent will be arranged during this phase, ready to be submitted to the council with the detailed construction plans. These drawings will include all the details of the finishing products that will align your house with your vision for your dream home. At this stage, your plans and additional documentation will be submitted to Auckland Council for building consent and any other consents you may require. The council consented plans will be used by our team during the construction phase.

COUNCIL CONSENT

We like to keep our timelines tight and efficient so that your project's progression keeps moving. This is why while we wait on the council, you'll be kept busy making final selections on your finishings specifications, ready for your final price. We'll work closely with you to finalise your colours, bathroom and kitchen design. This includes all the various product choices for flooring, fixtures and bathroom furniture. Furthermore, we use this time to fine tune the construction schedule with you to make allowances for time frames involved in the various choices you make and allow for supplier ordering lead times.
PRICING CONTRACTS

While your plans are with the council, we use this window of opportunity to finalise prices with our contractors and suppliers. This allows us to put together the Build Schedule and Construction Agreement along with the 10 Year Building Guarantee. Once you're happy with everything and have signed the contract we'll start pre-booking any subcontractors involved. This ensures that everything gets started as soon as your build consent has been issued.
CONSTRUCTION

Once consent is issued, our skilled team will be ready to start! You will meet with your dedicated site supervisor/foreman. Their role is to organise site activities and works with our back office team to orchestrate and coordinate the entire build from start to finish. Our Project Manager will keep you updated on progress while working with you to handle any quotations and changes that invariably occur due to the complex nature of construction work.

COMPLIANCE

When all the work on the site has been completed you'll sign off your Practical Completion document. Once this is done, we work to request all the documentation required for either you or our back office team to submit your Code Compliance application to the council. We monitor progress and follow up with the council with any additional request they make to ensure timely delivery of your Code Compliance Certificate.
COMPLETION

Following through from practical completion and the receipt of your Code Compliance Certificate, your 10 year guarantee issued by either Certified Builders or Master Builders will be in place. Now it's the exciting part – it's time to move into your new and improved home. Resume your life, looking forward to returning home every day.