Free consultation
on your renovation ideas.
Whether you have the intention of using it to support an ever growing family with inter-generational living, use it as an opportunity to create additional financial security, or create a space to work from home, a minor dwelling can be a great addition to your current home. There are a host of possibilities that come with building a minor dwelling, and Renovation Works can make those possibilities a reality.
What is a Minor Dwelling?
Minor dwellings take an array of shapes with various design features, but have a few commonalities that define it as a "minor dwelling". They are an additional minor household that is built on an existing title of land. This minor dwelling can either be built completely separate or adjacent to the main house, but ultimately are self-contained and provide a space for independent living.
While the layout may differ, the overall living space of a minor dwelling is a maximum of 65m2 and usually is not sub-dividable. A minor dwelling or granny flat has its own amenities for independent living. This includes a kitchen, bathroom, living area and bedroom/s. It's these features that separate it from being classified as merely a sleep out – it is an all encompassing space that provides independent living to whoever occupies it.
Utilities such as water, power, phone line and internet can either be connected to the existing house with check meters to determine usage, or connected completely independent to the main house.
Renovation Works are your Minor Dwelling and Granny Flat Specialists in Auckland
With over 25 years in the renovation sector, Renovation Works have all the knowledge, experience and personnel to add value to your property with a minor dwelling. With a reputation for delivering high quality projects on time and to budget, Renovation Works expertise are your partners in designing and constructing the perfect minor dwelling to compliment your home.
Get in contact with Renovation Works today for a free assessment and further information about our minor dwelling and granny flat building services.
What are some of the benefits of building a granny flat / minor dwelling?
There are many reasons why your property could benefit from a minor dwelling. Whether it is to create inter-generational living spaces that are independent from each other (this is why minor dwellings are sometimes called "granny flats"), or create extra revenue to help pay into your own equity.
Intergenerational Living – Minor dwellings originally gained popularity as a way to care for older generations of the family while still providing them with the independence of their own space. However, as the competitive property market conditions have made first home buying more challenging for the younger generation, they can act as a leg up on Auckland's property ladder. This way family members can pay into the mortgage of your home, which allows equity to stay within the family.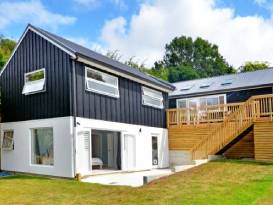 Additional Revenue – Modern minor dwelling and granny flat design makes them a hot commodity on the rental market. They provide a space for individuals who are in the stage of their life that they may no longer wish to live with flatmates, however aren't ready to purchase a house of their own. It provides these tenants independence while letting them avoid the high cost of renting a full home. Minor dwellings never stay on the rental market for long, and are a great way to help service your mortgage.
Another opportunity that has gained a great amount of traction in the past few years are services like AirBnB. They offer a huge financial opportunity to rent out living spaces for short term tenants, well above market rate. This allows you to earn additional income while not having to deal with some of the legal requirements being a landlord to long term tenants can entail.
Create Your Own Workspace – Covid-19 changed the way many people work, seeing a huge uptake of people working from home. By using a minor dwelling as your home office, you may be able to claim back the rental costs as a business expense.
The costs to build a granny flat or minor dwelling is often outweighed by the immediate value they provide to your home. Whether this is through one of the ways listed above, or simply for the resale value of your home to future buyers. This makes them a high value and a low risk asset to your property.
Need more details
Please read our Privacy Policy to see how your information is used
Your Information is safe with us
Christine Megaw
"Renovation Works went the extra mile in terms of planning, which made this project run smoothly and on time. I felt I could always ask questions and seek guidance throughout."
Milutin Kovacevic
"Reno Works has been a great company to work with. Thanks for all the hard work Roy and team."
Luke Tizard
"Awesome people, hardworking, honest and reliable, nothing is ever too hard and the ideas are brilliant."